Game Description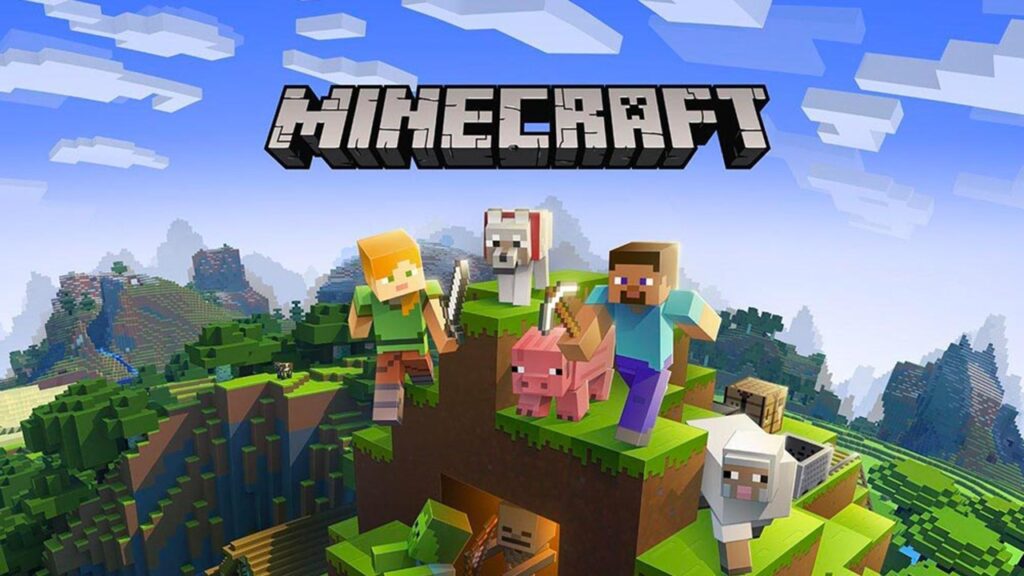 Minecraft is a sandbox video game that offers players endless opportunities for creativity and exploration. Developed by Mojang Studios, the game's open-world environment allows players to build, explore, and survive in a blocky, procedurally generated 3D world. With its expansive landscapes and limitless possibilities, Minecraft has become a global phenomenon, captivating players of all ages.
Game Controls
Navigate the world of Minecraft with these basic controls:
PC (Keyboard and Mouse):

WASD: Move forward, backward, left, and right.
Spacebar: Jump.
Left Mouse Button: Mine or interact with blocks.
Right Mouse Button: Place blocks.
E: Open inventory.
Shift: Crouch.
Tab: Switch between inventory tabs.

Console and Mobile: Controls may vary depending on the platform, but typically involve on-screen buttons, joysticks, or touch gestures.
How to Play Minecraft
Embark on your Minecraft adventure with these fundamental steps:
World Exploration
Begin in a vast, procedurally generated world filled with diverse biomes, terrain, and structures.
Gathering Resources
Start by punching or mining blocks to gather resources like wood, stone, and ores.
Crafting
Access your inventory and craft tools, weapons, and items using collected resources.
Building and Construction
Use your creativity to build structures, homes, farms, and more. The possibilities are limited only by your imagination.
Survival
Survive by managing your health, hunger, and shelter. Defend against hostile mobs that come out at night.
Multiplayer
Join multiplayer servers to collaborate with others or engage in PvP (Player vs. Player) combat.
Goals and Achievements
Set your own goals or follow in-game achievements, such as defeating the Ender Dragon or exploring the Nether.
Tips and Tricks
To thrive in the world of Minecraft, consider these strategies:
Build Shelter: Create a shelter early to protect yourself from hostile mobs during the night.
Exploration: Explore different biomes to find valuable resources and discover unique landscapes.
Mining: Delve deep into the earth to find rare materials and valuable ores.
Farming: Establish farms to grow crops and raise animals for sustenance.
Crafting: Experiment with crafting recipes to create powerful weapons and tools.
Redstone Engineering: Master the art of redstone to build intricate machines and contraptions.
Game Developer
Minecraft was developed by Mojang Studios, a Swedish video game developer founded by Markus Persson.
Game Platforms
You can enjoy Minecraft on various platforms, including but not limited to:
PC/Mac
Console (Xbox, PlayStation)
Mobile (iOS, Android)
Nintendo Switch
How to Play Unblocked
Playing Minecraft unblocked may not be straightforward, as it often requires a licensed copy of the game and an internet connection for updates. However, here are some general guidelines:
Check School or Work Restrictions: Ensure that your school or workplace doesn't have strict internet restrictions or content filters that might block gaming websites.
Use the Official Launcher: If you own a legitimate copy of Minecraft, use the official launcher provided by Mojang to access the game. This method typically bypasses most blocks.
Alternative Platforms: In some cases, schools or organizations may provide access to Minecraft: Education Edition for educational purposes. Check if this version is available.
Educational Servers: Some schools and institutions set up private Minecraft servers for educational use. Inquire if such servers are accessible.
Internet Connectivity: Ensure a stable internet connection for updates and online play.
In summary, Minecraft offers an expansive and immersive sandbox experience where players can build, explore, and survive in a limitless world. With its boundless creativity and opportunities for adventure, it's a game that has captured the hearts of millions of players worldwide. Enter the blocky realm and unleash your creativity!