Game Description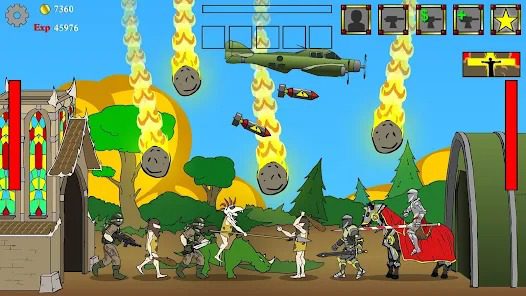 Age of War is a captivating and strategic war-themed game that takes players on an epic journey through time. Developed by Louissi, this game combines elements of defense and strategy as you evolve your civilization from the Stone Age to the future while defending against relentless enemy attacks. With its immersive gameplay and historical progression, Age of War offers a challenging and engaging experience for strategy enthusiasts.
Game Controls
Age of War provides intuitive controls for managing your civilization and troops:
Mouse: Click to interact with menus, select units, and deploy them in battle.
How to Play Age of War
Embark on a historical conquest and defend your civilization with these steps:
Civilization Evolution
Begin in the Stone Age with primitive units. Your goal is to advance through different ages, including the Ancient, Medieval, Industrial, and Future Ages.
Resource Management
Collect resources by defeating enemy units. These resources allow you to evolve your civilization and unlock new units and structures.
Defend Your Base
Protect your base from enemy attacks by deploying units strategically. Defend against waves of opponents who will try to destroy your base.
Advance Through Ages
As you gather resources, use them to advance to the next age. Each age offers new technologies and units to aid in your defense.
Upgrade and Unlock
Upgrade your units and base structures to increase their effectiveness. Unlock powerful units unique to each age.
Conquer Enemies
Conquer enemy bases to expand your territory and gain access to more resources.
Victory Conditions
The game offers various victory conditions, including eliminating the enemy base or surviving until your opponent's base is destroyed.
Tips and Tricks
To excel in Age of War, consider these strategies:
Balanced Troop Selection: Maintain a balanced army with both melee and ranged units to defend against various enemy types.
Resource Management: Efficiently manage your resources to progress through ages and unlock powerful units.
Upgrade Wisely: Prioritize upgrading units and structures to enhance their capabilities in battle.
Defensive Strategy: Place defensive structures strategically to protect your base and divert enemy forces.
Adapt to Enemy Units: Be prepared to adjust your unit composition based on the types of enemy units you encounter.
Game Developer
Age of War was developed by Louissi, a game developer known for creating strategic and challenging games.
Game Platforms
You can enjoy Age of War on various platforms:
Web Browser: Play the game online directly in your web browser.
Mobile Devices: Download the game on iOS and Android devices to play on the go.
How to Play Unblocked
Playing Age of War unblocked is typically straightforward as it's a web-based game. To access it without restrictions, follow these steps:
Check School or Work Restrictions: Ensure that your school, workplace, or network doesn't have strict internet restrictions or content filters that might block gaming websites.
Visit Official Game Websites: Access the game through the official website or gaming platforms associated with Age of War. Web-based games like this are generally accessible without restrictions.
Internet Connection: Make sure you have a stable internet connection to enjoy uninterrupted strategic warfare.
Conquer Through History: Once you've accessed the game, you can immerse yourself in the epic journey of civilization evolution and strategic battles with Age of War without any limitations.
In summary, Age of War offers a compelling blend of strategy and defense as you guide your civilization through the ages and fend off relentless enemy attacks. With its historical progression and challenging gameplay, it's a game that keeps players engaged as they build, evolve, and conquer through time. Prepare for an epic battle of strategy and evolution!