Game Description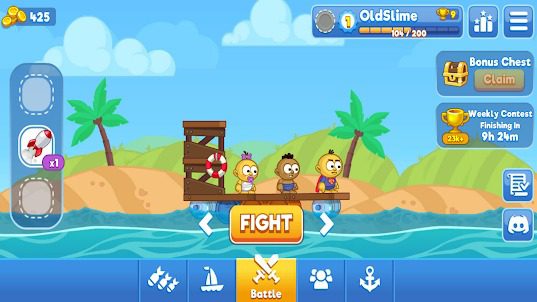 Raft Wars 2 is a fun and entertaining online shooting game that combines strategy and physics-based gameplay. Developed by Martijn Kunst, this sequel to the original Raft Wars continues the adventures of Simon and his brother as they defend their treasure against a host of enemies. With its engaging storyline and challenging levels, Raft Wars 2 promises hours of enjoyable gameplay.
Game Controls
Prepare for battle with these straightforward game controls:
Mouse: Aim and click to shoot. Adjust the angle and power of your shots to hit your targets.
How to Play Raft Wars 2
Engage in the battle for treasure on the high seas with these steps:
Choose Your Character
Begin by selecting your character, either Simon or his brother. Each has unique abilities.
Battle Enemies
Face off against a variety of enemies, including pirates and other foes, by accurately launching tennis balls and other projectiles.
Strategize
Plan your shots carefully, taking into account the trajectory, obstacles, and enemy positions.
Upgrade
Use the treasure you collect to purchase upgrades and enhance your weapons and abilities.
Progress Through Levels
Navigate through different levels, each with its own challenges and enemies, and strive to protect your treasure.
Tips and Tricks
To excel in Raft Wars 2, consider these strategies:
Aim Precisely: Take your time to aim your shots accurately, considering the angle and power needed to hit targets.
Use Obstacles: Utilize objects and obstacles in the environment to your advantage, such as bouncing shots off walls to reach enemies.
Upgrade Wisely: Invest in upgrades that suit your play style and current challenges, whether it's improving your aiming or increasing your damage.
Adapt to Enemy Tactics: Different enemies have unique abilities and tactics. Learn how they behave to counter their moves effectively.
Game Developer
Raft Wars 2 was developed by Martijn Kunst, a game developer known for creating entertaining and physics-based online games.
Game Platforms
Mobile Devices: Download the game on iOS and Android devices to play on the go.
How to Play Unblocked
Playing Raft Wars 2 unblocked is often a straightforward process:
Check School or Work Restrictions: Ensure that your school or workplace doesn't have strict internet restrictions or content filters that might block gaming websites.
Visit Official Game Websites: Access the game through official gaming websites or platforms that host Raft Wars 2 without restrictions.
Alternative Gaming Websites: If the game is blocked on your network, try playing on alternative gaming websites that offer unblocked versions.
Internet Connection: Ensure a stable internet connection to enjoy uninterrupted gameplay.
In summary, Raft Wars 2 offers an entertaining and challenging blend of strategy and physics-based shooting gameplay. With its engaging storyline and progressively difficult levels, it's a game that keeps players engaged as they defend their treasure against a cast of entertaining adversaries. Prepare to make precise shots and protect your loot!