Game Description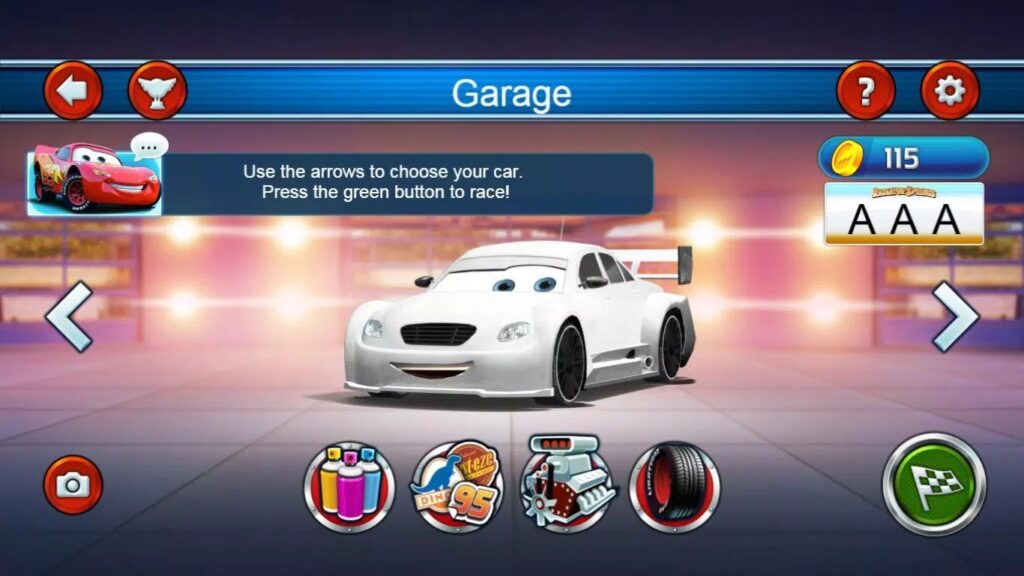 Cars Lightning Speed is an exciting and action-packed racing game based on the popular Disney-Pixar Cars franchise. In this high-speed adventure, players can join Lightning McQueen and other beloved characters from the movie as they race through iconic locations. With stunning graphics and engaging gameplay, this game offers an immersive Cars experience for fans of all ages.
Game Controls
Get behind the wheel with these intuitive controls:
Arrow Keys: Steer your car.
Spacebar: Use power-ups and weapons.
Shift Key: Activate turbo speed for a burst of acceleration.
How to Play Cars Lightning Speed
Experience the thrill of the race by following these steps:
Choose Your Racer
Begin by selecting your favorite character from the Cars universe, each with their unique abilities.
Select a Track
Pick from a variety of iconic tracks, such as Radiator Springs or the Piston Cup.
Race to Victory
Compete against other characters in intense races, using your driving skills and power-ups to gain an advantage.
Collect Items
Gather power-ups and weapons scattered throughout the track to gain an edge over your opponents.
Avoid Obstacles
Navigate through challenging obstacles and hazards, including sharp turns and oil spills.
Master the Turbo
Use the turbo speed wisely to leave your rivals in the dust and cross the finish line first.
Upgrade Your Ride
Earn points and customize your car with enhancements to improve its performance.
Win Trophies
Achieve victory in races to earn trophies and unlock new characters and tracks.
Tips and Tricks
Here are some strategies to help you become a racing champion:
Master the Controls: Practice using the arrow keys, spacebar, and shift key to navigate the track and utilize power-ups effectively.
Learn the Tracks: Familiarize yourself with each track's layout, shortcuts, and challenges to gain a competitive edge.
Collect Power-Ups: Grab power-ups and weapons to enhance your racing abilities and hinder your opponents.
Upgrade Wisely: Invest your earned points in car upgrades that suit your racing style and needs.
Game Developer
Cars: Lightning Speed was developed by Disney-Pixar, a renowned entertainment company known for its animated films and games.
Game Platforms
You can enjoy Cars: Lightning Speed on various platforms:
Web Browser: Play the game directly in your web browser.
Mobile Devices: Download the game on iOS and Android devices to play on the go.
How to Play Unblocked
To access Cars: Lightning Speed unblocked, follow these steps:
Check School or Work Restrictions: Ensure that your school or workplace doesn't have strict internet restrictions or content filters that might block gaming websites.
Official Game Websites: Visit the official Disney-Pixar or gaming platforms associated with Cars: Lightning Speed to access the unblocked version of the game.
Internet Connection: Make sure you have a stable internet connection to enjoy uninterrupted high-speed racing action.
In summary, Cars: Lightning Speed offers an exhilarating racing experience in the colorful world of Disney-Pixar's Cars. Choose your favorite character, race on iconic tracks, and use power-ups to claim victory in this thrilling game. Get ready to rev your engines and speed to the finish line!