Game Description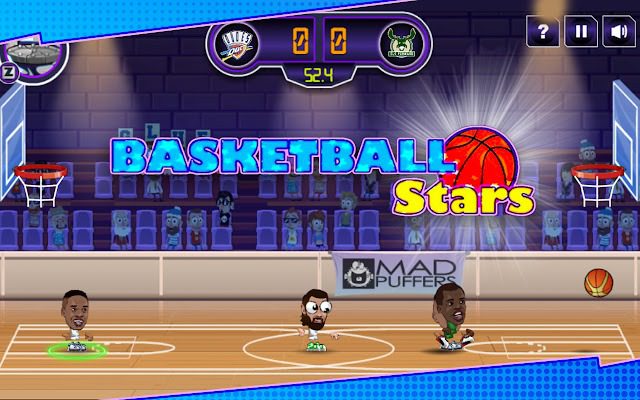 Basketball Stars is an exciting and competitive basketball game developed by MadPuffers. This multiplayer basketball experience lets you challenge players from around the world in fast-paced one-on-one basketball matches. With its realistic physics, customizable players, and various game modes, Basketball Stars offers a thrilling basketball gaming experience for both casual players and basketball enthusiasts.
Game Controls
Basketball Stars provides simple and responsive touch controls for mobile devices:
Swipe Left/Right: Move your player horizontally.
Swipe Up: Jump to block or shoot.
Swipe Down: Steal the ball or perform a quick dunk.
How to Play Basketball Stars
Get ready to hit the court in Basketball Stars with these steps:
Player Customization
Start by creating your own basketball player with a unique appearance and attributes. Customize your player's skills to match your playing style.
Game Modes
Choose from various game modes, including one-on-one matches and tournaments. Compete against real players from all over the world.
Match Gameplay
During matches, use your swiping gestures to move, jump, shoot, and defend. Timing and strategy are key to outplaying your opponent.
Scoring
Aim to score points by making successful shots while defending your own hoop. Accurate shooting and well-timed jumps are crucial.
Win Matches
Outscore your opponent by the end of the match to claim victory. The player with the most points wins the game.
Progression
As you win matches and tournaments, you can earn rewards and level up your player, unlocking new skills and customization options.
Tips and Tricks
To become a basketball star in Basketball Stars, consider these tips:
Master the Controls: Spend time practicing your swiping gestures to improve your dribbling, shooting, and defensive skills.
Customize Your Player: Tailor your player's attributes and skills to your preferred playstyle, whether you're a sharpshooter or a defensive specialist.
Defense Wins Games: Effective defense can be just as important as scoring. Time your jumps and swipes to block shots and steal the ball.
Use Power-Ups: Take advantage of power-ups that appear during matches. They can give you a temporary edge.
Learn from Your Opponents: Pay attention to your opponent's playing style and adapt your strategy accordingly.
Game Developer
Basketball Stars was developed by MadPuffers, a game developer known for creating multiplayer sports games.
Game Platforms
You can enjoy Basketball Stars on various platforms:
Mobile Devices: The game is available for both iOS and Android devices.
How to Play Unblocked
Since Basketball Stars is primarily a mobile game, it doesn't face the same unblocking challenges as web-based games. To play the game without restrictions:
Download the Game: Visit your device's app store, whether it's the Apple App Store or Google Play Store, and download Basketball Stars to your mobile device.
Internet Connection: Ensure you have an active internet connection to play online matches and compete with players worldwide.
Join the Competition: Once the game is installed, you can jump into quick basketball matches and tournaments, showcasing your skills and aiming to become a true basketball star.
In summary, Basketball Stars offers intense and competitive basketball action on your mobile device. Challenge players worldwide, customize your player, and strive to become the best on the virtual court. Get ready to dribble, shoot, and slam dunk your way to victory!