Game Description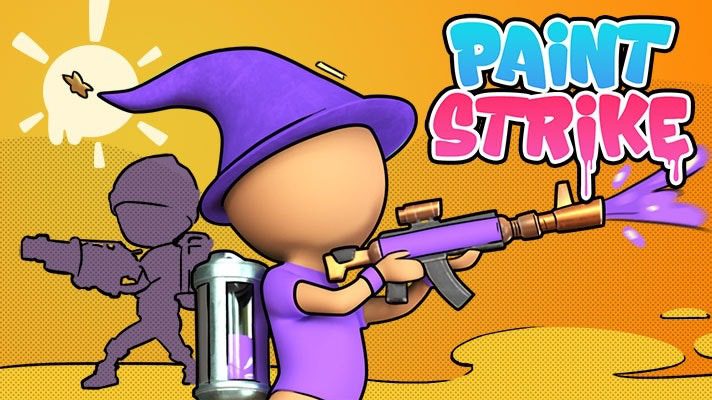 Dive into a world of vibrant chaos and creative warfare with Paint Strike. This exhilarating multiplayer game combines strategy and artistic flair as players engage in colorful battles, armed with paintball guns. Immerse yourself in a lively battleground where the goal is not just victory but leaving your mark in the most vibrant way possible.
Game Controls
Master the art of paintball combat with these essential controls:
Move: Use the arrow keys or on-screen controls to navigate the battlefield.
Aim and Shoot: Utilize your mouse or touchscreen for precision aiming and firing paintballs.
Reload: Keep the colors flowing by reloading your paintball gun strategically.
Switch Weapons: Adapt to different situations by switching between various paintball weapons.
How to Play Paint Strike
Unleash your inner artist and dominate the canvas of battle:
Colorful Objectives: Capture and paint various structures and territories with your team's colors.
Team Coordination: Work with your teammates to create strategic plans for attacking and defending.
Creative Tactics: Use the environment to your advantage, and devise imaginative tactics to surprise your opponents.
Paint Splatter Mastery: Aim to cover as much of the environment in your team's colors as possible.
Strategic Power-Ups: Utilize power-ups strategically to gain an advantage over the opposing team.
Tips and Tricks
Paint your way to victory with these creative tips:
Flank and Surprise: Take unexpected routes to surprise enemies and gain control of key areas.
Defensive Artistry: Use paint strategically to create defensive barriers, limiting enemy movement.
Team Color Coordination: Coordinate with your team to create a visually stunning and cohesive battlefield.
High Ground Advantage: Control elevated positions to cover more ground with your paint splatter.
Resource Management: Manage your paint supply wisely; reloading at the right moment can be crucial.
Game Developer
Paint Strike is the brainchild of a talented team of developers who have combined the thrill of multiplayer combat with the joy of artistic expression. Their dedication to delivering a unique and engaging gaming experience shines through in the vibrant chaos of the paintball battlefield.
Game Platforms
Immerse yourself in the world of paintball artistry on the following platforms:
Web Browser: Access the game directly from your web browser for seamless play.
Mobile Devices: Carry your paintball arsenal with you on both iOS and Android platforms.
How to Play Unblocked
Ensure uninterrupted artistic warfare with these strategies:
VPN Access: Use a Virtual Private Network to bypass restrictions and access Paint Strike seamlessly.
Proxy Servers: Conceal your location and ensure unblocked access using reliable proxy servers.
Browser Extensions: Install dedicated browser extensions designed for unblocking games, guaranteeing a smooth artistic gaming experience.
Get ready to splatter the battlefield with color, strategy, and creativity in Paint Strike! Unleash your inner artist and dominate the canvas in this unique multiplayer paintball experience.